Ottawa River
Back in January of 2003, Jade and I decided to go to the Ottawa River that summer and we even booked a private class with Ken Whiting. Well well well, I guess I just couldn't stand the thought of my wife taking instructions from her favorite (and she thinks he's hot) kayaker in the world. In February I blew out my shoulder in order to stop it from happening.
Fast forward four years, it's 2007. Once again we planned to paddle the Ottawa. This time we found out our friend Erik and Sue are going there for fifth or sixth time. Looking at the map, I saw we will drive through Watertown, NY on the way to Ottawa. The place sounds familiar but I couldn't place it right away. Then I remembered. We were watching "The Secret Lives of Women" one evening and it was about women in the adult entertainment industry. They interviewed one woman that was from Watertown and in the interview the woman was standing against the railing of a bridge over a river and in the distant background there was a kayaker surfing a wave. We both were glued to the screen wondering where the heck that wave is. The wave turned out to be Hole Brothers, on the Black River, and we discovered another park'n play spot called Route 3 wave.
August 5. We survived 12 hours on I-81 and a really really bad motel that charged extra $10 for a door key. Route 3 wave put in. We see a van with some paddlers so we knew we are at the right place. The van turned out to be Paul Twist and Danny Doran of Team Riot taking some kids out playing. We can't say enough about Route 3, long glassy tongue, breaking at peak, steep right shoulder. Over the course of two days we met bunch great locals and even some senior citizens that puts my surfing to shame.
Jade Grinding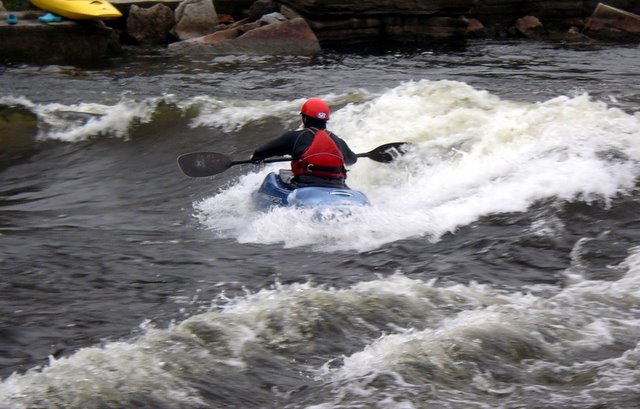 Some local guy blunting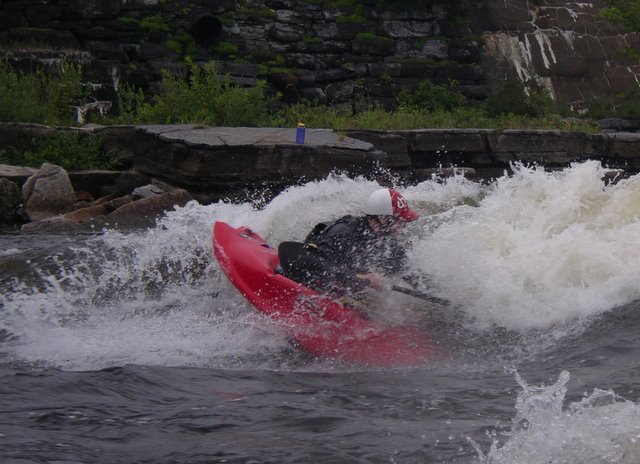 Paul Twist and his kids
Mike Doogan(?) of Hudson River Rafting Company graciously let us camp there by their raft trail. After dinner, we came across some alternative water crafts at Hole Brothers.
First he chilled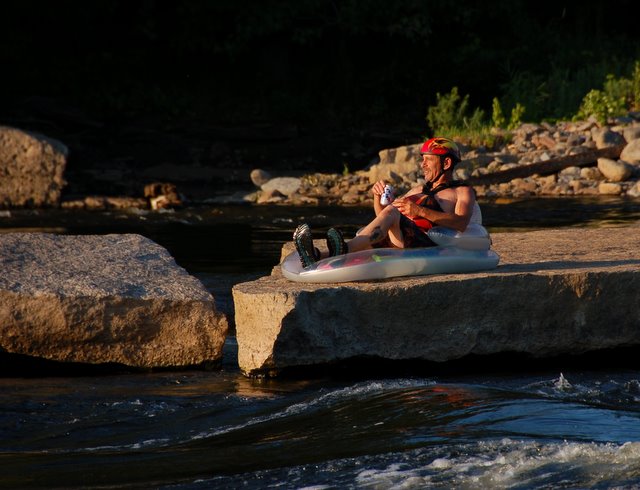 Then he surfed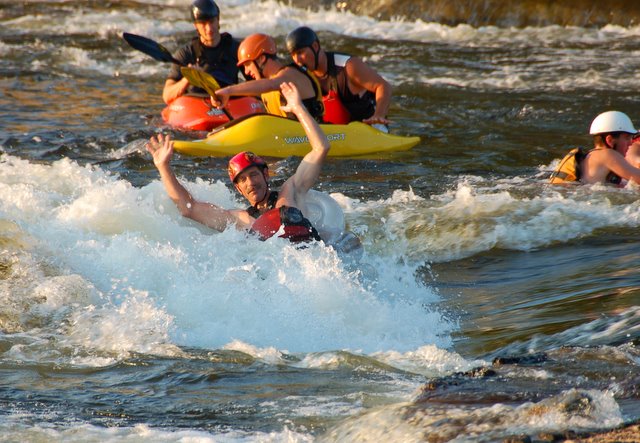 August 6: Erik and Sue arrived at Route 3 in the afternoon with their 20 month old baby Will. Sue played for an hour while Erik played babysitting, then we made our way north to the Ottawa River. Border crossing is fairly painless especially with Enzo snoozing in the back of the van. Erik and Sue rented a house at River Run, and we camped at their Pet Haven area. Mosquitos are bad, but we have screened tents and couldn't wait to get on the river.
August 7: It's Erik's turn to paddle. Since Jade and I have never been here before, he decided to run the whole thing with us. He also warned that this maybe our last time running the river. The only video we shot was at McKoy's Chute, the first rapid on the river. We also came across Clay Wright teaching the Keener School and he made them do fairly crazy things.
Looking up at Phil's Hole and Corner Wave.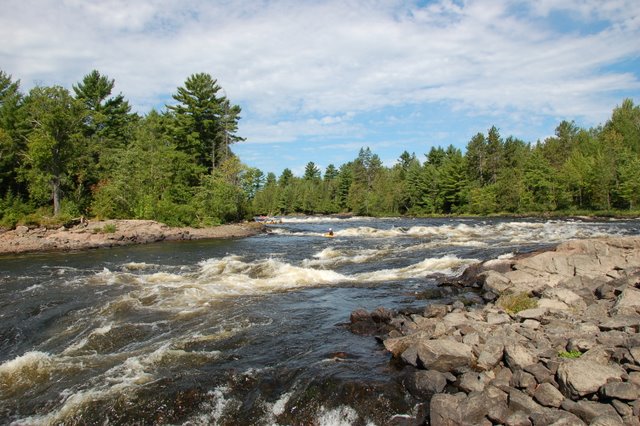 Horseshoe Holes.
August 8 - 10: After one run of the whole river, we decided it was best to follow the local's example and park'n play the features. Our friends from Raleigh, H.H., Brian, and Fran also came up and they rented a house between McKoy's and Garburator. Talk about Park'n Play! In the morning they paddle up to McKoy's to surf Babyface, and in the evening they paddle down to Garburator for some munching. Jade and I with Sue and Erik split our playing time between Baby Face, Garburator and Pushbutton. Ottawa is the best play river that we've ever seen. Warm water, deep water, no one here knows what rocks look like because they've never seen one here. Eddy access is amazing, often the eddy will take you back to top without much work. We saw so many great playboaters here. It seems they all flock to the Ottawa in August.
Erik airborne at Baby Face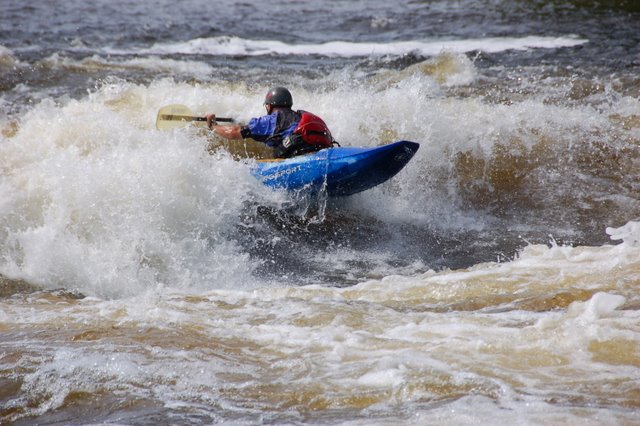 Rafting surfing Baby Face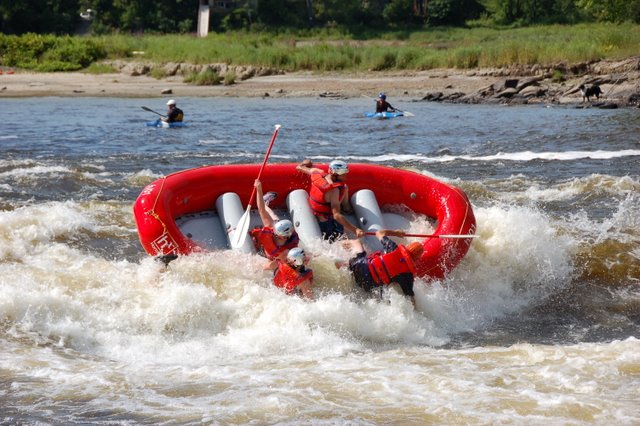 Kelsey Thompson of WS airscrew Garburator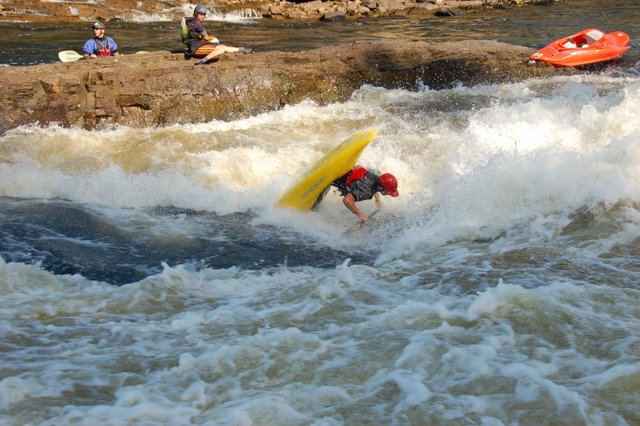 Erik doing something huge at Garburator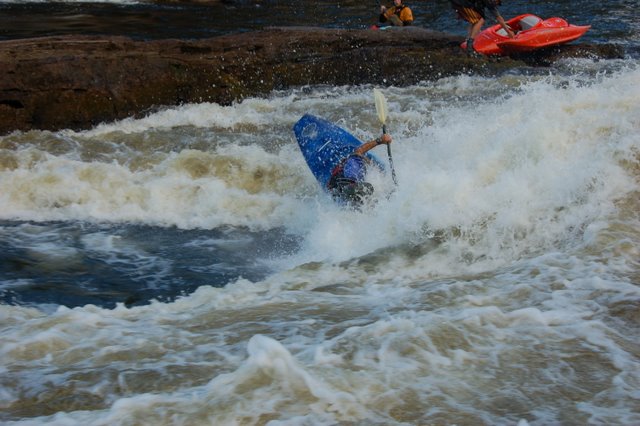 Bald Eagle sighting at Garburator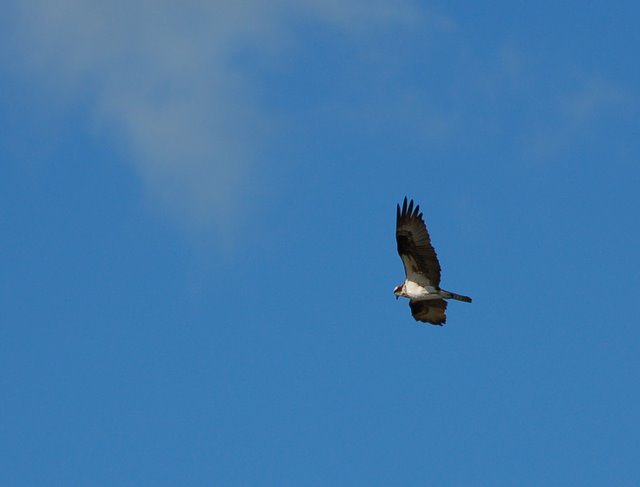 Will checking out the surf with dad.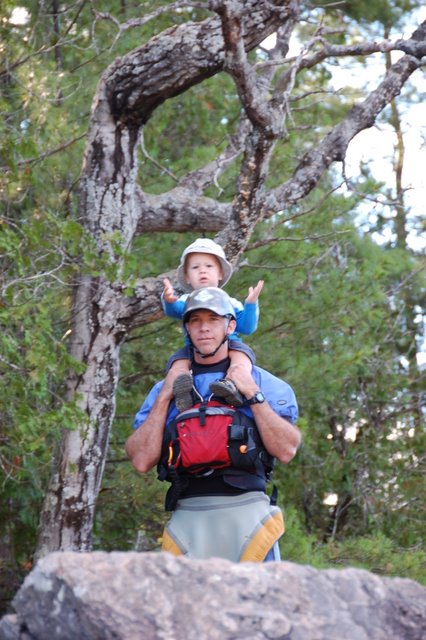 Garburator Video (33MB)
Baby Face Video (83MB)
Push Button Video (141MB)